Note: Well, I don't know very good how do this because I don't have the original map without the darkness, but I'll do my best putting a tutorial with photos.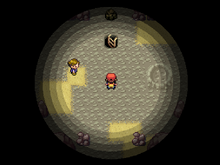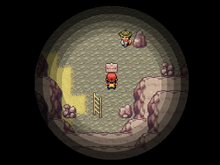 That men it's a trainer
Trainer

Team
Leonard
Geodude lv 12

Machop lv 12
Let's go left and up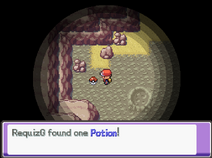 We're lucky, we found a potion, then, let's go back to the beginning and let's go to right side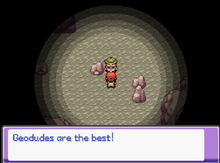 A trainer !
Trainer

Team
Wayne
x2 Geodude lv 8

Geodude lv 9
Now let's go down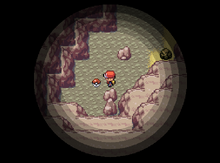 Another pokeball ! We found one Revive
Let's go back to the middle where we find "Wayne" trainer
and let's go right side from Wayne
We found a trainer and a stair
Ad blocker interference detected!
Wikia is a free-to-use site that makes money from advertising. We have a modified experience for viewers using ad blockers

Wikia is not accessible if you've made further modifications. Remove the custom ad blocker rule(s) and the page will load as expected.